Special Lessons: 50th Anniversary Celebration
Teacher's Guide: 50th Anniversary Celebration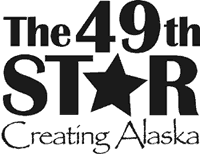 This section of the Teacher's Guide was developed specifically to complement the video, The 49th Star, the documentary developed by KUAC as part of the University of Alaska's Creating Alaska project. The Creating Alaska project is designed to celebrate the milestones of Alaska's statehood on its 50th anniversary.
The commemoration of the 50th anniversary of the Alaska Constitutional Convention and statehood provides an opportunity for Alaska teachers and students to take a closer look at not only the constitution, but the historical context in which it was written. The lessons which follow are designed to be used with The 49th Star and in conjunction with the Governing Alaska unit of the Alaska History and Cultural Studies web site and course.
The video glossary and video guide will assist in making viewing of The 49th Star more meaningful for students. The four major lesson plans focus on the historical context of the constitution, its provisions, and on the Alaskans who played leadership roles in the writing the constitution. Also included are lesson plan ideas. These ideas are intended to provide the teacher with a starting place from which to create lesson plans for individual students and classes. The lessons and ideas were generated from the 49th Star film and Creating Alaska website. The film and website form a resource base for the lessons, although many other sources could also be utilized.
Teachers may want to review all of the lessons to determine which will work best for their students. Teacher access to the password protected answer keys may be obtained by emailing and providing your name, school, district, and the grade you are teaching.
---
Table of Contents
THE 49TH STAR VIDEO GLOSSARY
THE 49TH STAR VIDEO GUIDE
THE 49TH STAR LESSON PLANS
THE 49TH STAR LESSON PLAN IDEAS