Overview of the Course Web Design
The Home Page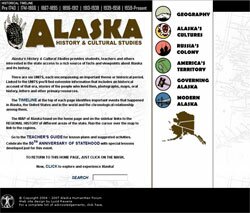 A visit to the course home page akhistorycourse.org, will introduce you to some of the main elements of the course.
Timeline
The Six Narrative Units
Regional History Map
Search Feature
To return to the home page, simply click on the mask logo wherever it appears on the web site.



Clicking on one of the six narrative units; Geography, Alaska Cultures, Russia's Colony, America's Territory, Governing Alaska, and Modern Alaska, will open that unit narrative and also display a sidebar which contains additional features.
History Units
Related Stories
Field Trips
In the News
Teacher's Guide
Regional History